International Workers Memorial Day 2018 events in East of England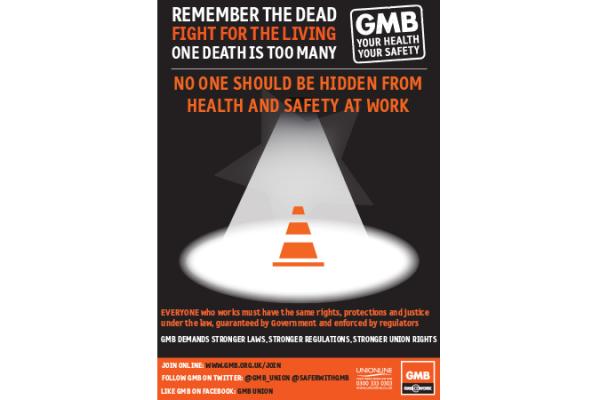 GMB support International Workers Memorial Day 2018
It is a day to remember the dead and to fight like hell for the living, says GMB London

GMB, the general workers' union, will be commemorating International Workers Memorial Day at a number of events around East of England.
International Workers Memorial Day on Saturday 28th April is to remember the workers killed or injured at work and to step up efforts to prevent others being killed or injured in the future.
Workers Memorial Day is commemorated throughout the world and is officially recognised by the UK Government.
Details of events in East of England are:

Milton Keynes
March to the MK Rose in Campbell Park

11.15 AM
Sunday 29 April
Midsummer Boulevard
Milton Keynes
MK9 3PU

Colchester
Annual commemoration

2:00 PM
Saturday 28 April
International Workers Memorial Tree
Lower Castle Park
Colchester
CO1 1UG

Followed by refreshments

The Victoria Inn,
10 North Station Road,
Colchester
CO1 1RB

Chelmsford
Memorial event

12:00 PM
Saturday 28 April
Memorial Tree
Central Park
Chelmsford
CM2 0RW

Shaun Graham, GMB Regional Officer said:

"International Workers Memorial Day is day when workers around the world stop to remember those workers killed, disabled, injured or made unwell by their work.

"This year, the theme of International Workers' Memorial Day is 'unionised workplaces are safer workplaces'. At GMB we always have and always will fight for the safety for all workers whoever they are.
"We must also use this day to acknowledge the families of those who have lost their lives through the effects of work, as well as their friends, workmates and their communities who are still suffering these unbearable tragedies.

"It is a day to remember the dead and to fight like hell for the living."

ENDS

Contact: Shaun Graham 07885 706 556 or GMB London Press Office 07970 114 762