Medirest staff vote for strike action at Northwick Park Hospital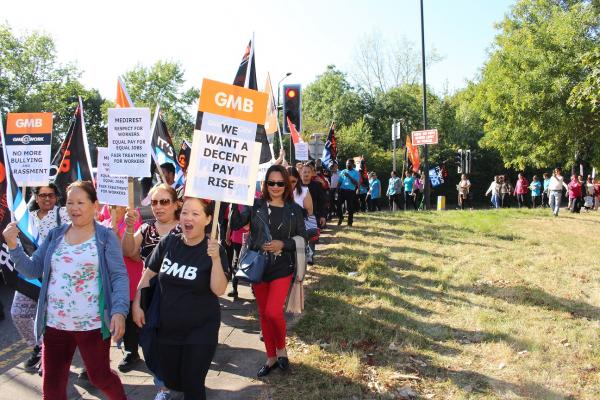 Medirest workers vote for strike action at Northwick Park Hospital over poor wages
We want equal terms and conditions for all workers and a return to the same working conditions before Medirest took over in 2017, says GMB London
GMB members working for Medirest at Northwick Park Hospital have voted in favour of taking strike action over poor wages and what they say is overbearing management and heavy workload.
In the ballot of 200 cleaners, porters, ward hostesses and kitchen staff at Northwick Park Hospital who are employed by Medirest, part of the multi-national facilities provider Compass Group, there was a 75% turnout, with 72% voting in favour of strike action. GMB will now meet with Medirest in the hope of averting a strike.
Hospital workers have recently been involved in mass protests to let Medirest, know that they are unhappy about their wages and workloads. Medirest staff are paid the national minimum wage of just £8.21 per hour, which is well below the London Living Wage of £10.55 per hour.
Many workers also claim that they are bullied and harassed to do more work and feel under pressure to get the job done in limited time. [See notes to editors for previous GMB press release and video of hospital protest]
GMB, the hospital workers' union, have welcomed a parliamentary motion drawing attention staff at the Hospital. The motion was tabled by Harrow West MP Gareth Thomas and has received support from 32 Members of Parliament.
Michael Dooley, GMB Regional Organiser said:
"Medirest know our position. We want equal terms and conditions for all workers and a return to the same working conditions before Medirest took over in 2017.
"Many workers are paid minimum wage and we have had wide concerns regarding bullying and over work among other things.
"We have been speaking to the company for a year but to no avail, so if workers have no choice who would blame them for going on strike?"
ENDS
Contact: Michael Dooley 07773 061798 or GMB London Press Office 07970 114762
Notes to Editors
Previous GMB Press Releases
"Medirest workers consider strike action at Northwick Park Hospital" (14 October 2019)
https://www.gmblondon.org.uk/news/medirest-workers-consider-strike-action-at-northwick-park-hospital
"Labour MP to attend Medirest protest at Northwick Park Hospital" (17 September 2019)
https://www.gmblondon.org.uk/news/labour-mps-attend-medirest-protest-at-northwick-park-hospital
Medirest protest at Northwick Park Hospital video:
https://youtu.be/sXhZSnJ566g