Medirest workers consider strike action at Northwick Park Hospital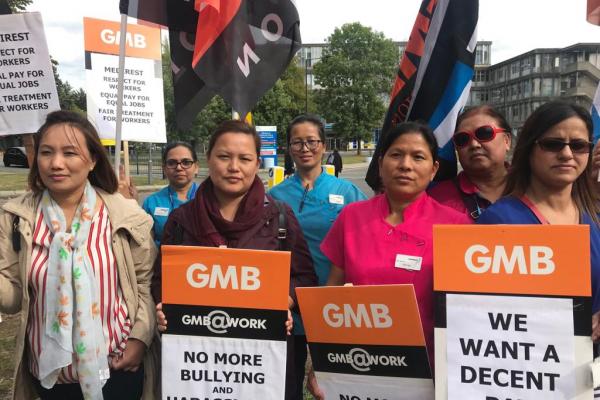 Hundreds of hospital workers consider striking over poor working conditions
We have been talking to Medirest management for over a year and they have not produced anything, says GMB London
GMB, the hospital workers' union are meeting with their members to ballot them in the first stage of industrial action at Northwick Park Hospital in Harrow.
Four hundred workers including porters, cleaners and hostesses who are employed by Medirest, part of the multi-national facilities provider Compass Group, could be affected when GMB ask their members if they will consider taking strike action.
The workers, who are represented by GMB London Region, have been involved in mass protests in previous weeks to let the company know that they are unhappy about their wages and workloads. Many workers also claim that they are bullied and harassed to do more work and feel under pressure to get the job done in limited time. [See notes to editors for previous GMB press release and video of hospital protest]
The union are still speaking to local Medirest managers and are awaiting the outcome of talks. The union say that they are willing to hear what the management say but are still pressing ahead with a consultative ballot which ends on the 18th of October.
The strike ballot opened on the 10th October and ends on Friday 18th October with the ballot announcement on Monday 21st October.
Tahir Bhatti, Local GMB Representative said:
"We have been talking to Medirest management for over a year and they have not produced anything. We feel we have been led up the garden path a little bit, so following the protest we felt that managers of Medirest might take a different view, however they still want time to get back to us.
"In the meantime, our members are not willing to wait and neither are we in the GMB, we will move forward and if the company make an offer of higher wages and to end the poor work practices we have discussed with them we will consider anything they have to say."
Contact: Tahir Bhatti 07974 249744 or GMB London Press Office 07970 114762
Notes to Editors
1] Medirest protest at Northwick Park Hospital video
2] Previous GMB Press Releases
"Labour MP to attend Medirest protest at Northwick Park Hospital" (17 September 2019)
https://www.gmblondon.org.uk/news/labour-mps-attend-medirest-protest-at-northwick-park-hospital