Mitie celebrates Living Wage Campaign – Now our key workers must get at least that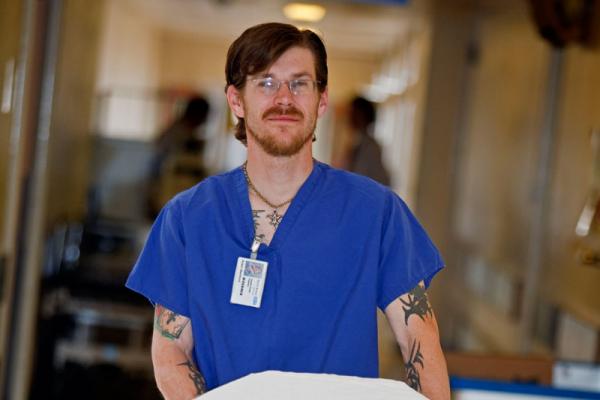 AS PRIVATE NHS CONTRACTOR MITIE PLEDGES SUPPORT FOR THE REAL LIVING WAGE GMB DEMAND THEY PUT THEIR MONEY WHERE THEIR MOUTH IS AND PAY IT!
GMB London, the union for outsourced NHS key workers say members employed by Mitie at the West Hertfordshire NHS Trust, at Watford, St Albans and Hemel Hempstead Hospitals, have raised concerns with GMB London, asking why Mitie are championing the real Living Wage when they don't pay it.
Mitie's management of this West Hertfordshire NHS contract has been poor. They regularly short pay staff and when you're working through a pandemic and not earning even the real Living Wage – it's a kick in the teeth to see Mitie celebrating this cause.

The morale amongst these low-paid employees is extremely low at a time when the UK has been thanking these front line key workers every Thursday evening for their immense contribution and selflessness during the health pandemic.
These workers must be given the same terms as their NHS colleagues – they face the maximum risk on the frontline but get the legal minimum terms and conditions.
Porters temporarily employed by West Herts NHS earn £14/hr and full sick pay, plus an array of other, better terms. Mitie staff get £8.75/hr and only miserly statutory sick pay (full sick pay is paid to workers who have Covid-19 or are self-isolating).
Hilda Tavolara, GMB London Regional Organiser said:
"By signing up to be a Living Wage Foundation champion, Mitie have admitted that the wages they pay are not enough to live on. They pay the real Living Wage on their contracts with IKEA, The Home Office and City Airport but not for our key workers at West Herts NHS. This is not right. Before the pandemic our members were getting into debt and turning to foodbanks and now while risking their lives to protect us, they're relying on voluntary contributions from the public. It's shameful.
Mitie and the West Herts Trust leadership must step up and ensure all our key workers are given the same terms and conditions as NHS staff. They should not face this financial penalty because they've been outsourced."
END
Contact:
Hilda Tavolara, GMB London Regional Organiser 07976 784737
GMB London Press Office 079 7001 964
Notes to editors:
NHS Staff vs MITIE pay:
Directly employed West Herts NHS staff at the same level (band 2) as the cleaner's porters and security staff would earn £9.67/hr. Their base rate is £9.21 and they receive 5% high cost areas supplement.
Real Living Wage:
The Real Living Wage rate for 2020 came into effect from 1 May 2020, it increased from £8.75 to £9.30. For a full-time (37.5hrs) worker this increase equates to over £1000/year (£1072.50).
It is independently calculated annually, based on living costs and is voluntarily paid by employers.

Living Wage Foundation Recognised Service Provider Scheme:
Mitie have joined the Living Wage Foundation's Recognised Service Provider scheme. This scheme celebrates soft facilities management service providers who commit to offer a bid to all clients costed at paying the real Living Wage to all those working on that contract. The client can then choose to accept the real Living Wage bid or choose a bid costed at the minimum wage.
This scheme does not mean Mitie will contribute financially to the higher wages for their staff – it means they will encourage their clients to cover the costs to ensure all those who work on their premises can earn a wage they can live on.
To join the recognised service provider, scheme an employer must pay the real Living Wage to all those working in their head office.

https://livingwage.org.uk/recognised-service-providers
https://www.livingwage.org.uk/news/mitie-celebrates-living-wage-recognition