Lambeth GMB member wins prestigious National Award for her inspirational equality work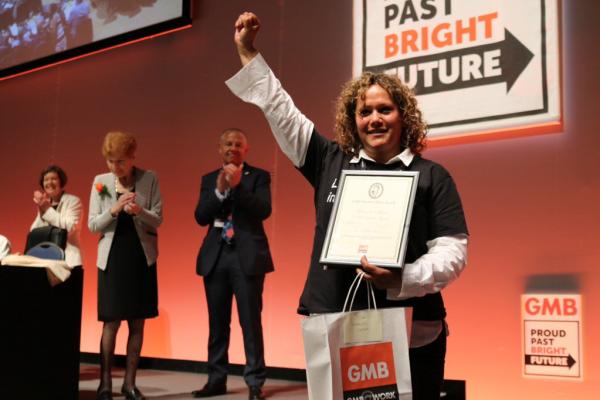 Lambeth GMB member wins prestigious National Award for her inspirational equality work
Taranjit Chana, a member of GMB's London region, will now have tea in the House of Lords after picking up the gong at GMB's 100th Congress
A Lambeth legal advisor has been handed a prestigious national award for her inspirational equality work.
Taranjit Chana was chosen for the Eleanor Marx Award at GMBs 100th annual congress.
Taranjit, a member of GMB's London Region who works for a womens' organisation in Ealing, was chosen ahead of dozens of others for her work organising marches, volunteering at women's refuges, giving up her spare time to give advice on the radio for Asian women.
She is also an ardent campaigner for LGBT rights, a champion of women's rights in the workplace, works with refugees and helps deliver aid packages in Calais and helps women survivors of domestic violence.
Angela Smith, Shadow Leader of the House of Lords, has now invited Taranjit to have tea in the Lords with her.
Taranjit Chana, GMB London Region Member, said:
"I was flabbergasted when I found out I'd won the award.
"Initially I thought I'd only been nominated, so I gave a speech thanking everyone for nominating me.
"It wasn't until about three hours later I found out I had won.
"I was stunned, happy and very proud."
Warren Kenny, GMB Regional Secretary, said:
"Taranjit's commitment to supporting women is nothing short of inspirational.
"She works tirelessly to promote equality within her own community and across the country.
"GMB London is very proud of Taranjit and the tireless campaigning she is involved in on behalf of our Regional and National Equality Forums.
"Taranjit is a very worthy winner of the Eleanor Marx Award."
ENDS
Contact: Sue Hackett on 07813 542 070
Notes to Editors

Photographs are available from Andrew Wiard Photographer on andrew@reportphotos.com