NHS cutbacks lead to amputation for GMB member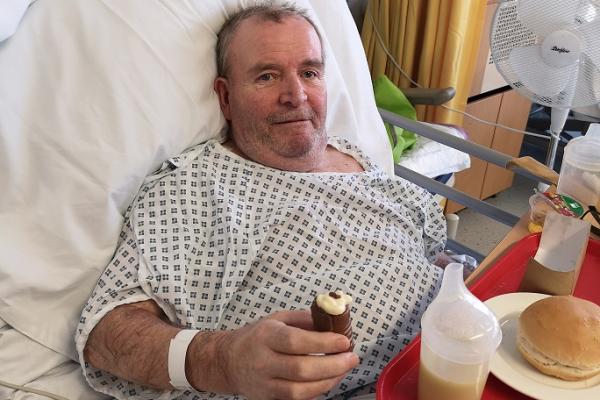 GMB slam NHS cutbacks after failure in duty of care leads to amputation for GMB member
It is also disappointing to learn that when a patient complains about treatment from their NHS, management then choose to withdraw services all together, says GMB London
GMB have slammed government cutbacks to the NHS after a GMB member was passed between four hospitals before being told he had to have his leg amputated due to a failure in duty of care.
Following a road traffic accident on 16th January 2019, GMB member Michael Mc Peake was admitted by ambulance to St Mary's Hospital in Paddington. After a stay there he was transferred by ambulance to Ealing Hospital, then to a rehab ward in Hillingdon Hospital, and then on 11th July 2019 to Northwick Park Hospital in Harrow where he remains an inpatient following several major operations.
Five days after being informed by a physio that Mr Mc Peake would be sent to a further rehab centre at Teddington Memorial Hospital, doctors told him that having his leg amputated from the knee down would be more advisable. Mr Mc Peake accepted this on the understanding from doctors, physios and occupational health that he would receive a wheelchair suitable for his body and further treatments. However, after recovering from treatment he was given a chair that is too small for his body size which as a result has hindered his recovery.
After writing several complaint letters, Mr Mc Peake was informed that Northwick Park Hospital would be withdrawing all future treatment from the relevant departments in the hospital.
Steve Garelick, GMB Regional Organiser said:
"It comes to something when an individual cannot obtain the right equipment for rehabilitation especially following a lack of staff to carry out rehabilitation. Clearly there has been total failure in duty of care.

"It is also disappointing to learn that when a patient complains about treatment from their NHS, management then choose to withdraw services all together.

"This despite claims otherwise by NHS management to MP for Ealing North, Stephen Pound and others, that this is not the case.

"Is this how we treat our fellow citizens?
"It is no wonder the NHS is in the mess it's in with constant damage by the Conservative Party and the worry continues with fears of US interests gaining major contracts following Brexit."
ENDS
Contact: Steve Garelick 07967 763980 or GMB London Press Office 07970 114762