North Middlesex Hospital strike threat looms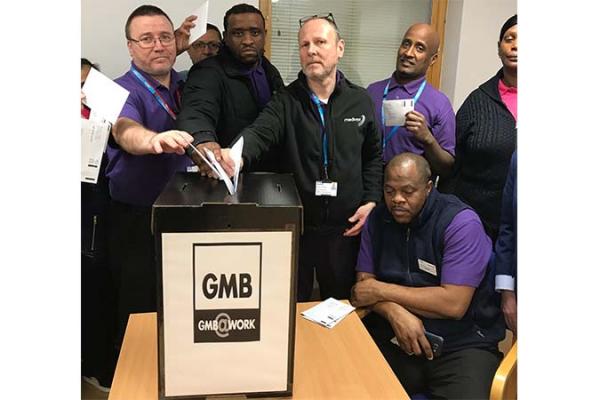 Strike threat looms for GMB members at North Middlesex Hospital over 'poverty pay'
Ballot papers have been sent out and we are awaiting their return to plan the next step, says GMB London
Cleaners and Porters working at North Middlesex Hospital in Enfield London are being asked to consider taking industrial action over what GMB say is "poverty pay". [See notes to editors for previous GMB press releases]
Many of the workers are paid minimum wage of £7.50 an hour and have asked their bosses for an increase in their wages.
The 240 staff who are employed by Medirest, part of the giant Compass Group, have asked GMB to ballot them for industrial action. The union issued a consultative ballot on 17 February 2018 to gauge the worker's response before a formal ballot to go on strike.
A Medirest porter said:
"Medirest have taken over the contract and have reduced our hours, and reduced hours on minimum wage makes it almost impossible to live in London if you are single and very hard to bring up children on such low wages.
"Cleaning urine and faeces, vomit and blood and handling dead bodies is not easy, we feel we deserve more than the National Minimum Wage set by the government. The way Medirest have discarded our views leaves us no option."
Michael Dooley, GMB Regional Officer said
"The staff do not want to go on strike because they are there to care for the patients, and they do care. But since Medirest took over, the problems we have had are non-stop.
"We felt that at least a modest pay increase from the minimum wage might help, but Medirest have flatly refused to discuss any increase what so ever, so we have asked our members working as porters and domestics to take a view on going on strike. Ballot papers have been sent out and we are awaiting their return to plan the next step.
"The troubled North Middlesex Hospital last year saw a series of protests and demonstrations by Medirest staff organised by GMB in the hope that the company would take the views of the workers seriously. However, Medirest simply refuse to move away from the National Minimum Wage, despite the possibility of strike action hitting a major London hospital that could continue for months.
"Maria Kane the boss at North Middlesex knows that one of the roles of the trust board is to ensure the trust provides high quality, effective and patient focused services. GMB wonder how this can be achieved when hard working front line auxiliary staff are only given statutory government minimum wage"
ENDS
Contact: Michael Dooley on 07773061798 or michael.dooley@gmb.org.uk; Medirest's Michael Harris on Michael.Harris@compass-group.co.uk; North Middlesex Hospital Head of Communications Paul Wastell on paul.wastell@nhs.net or 020 8887 3001; North Middlesex Hospital Chief Executive Maria Kane on chiefexecutive@beh-mht.nhs.uk or GMB Press Office on 07970 114 762
Notes to Editors
Previous GMB Press Releases
1] GMB Hospital workers protest with BBQ at North Middlesex hospital (6 October 2017)
https://www.gmblondon.org.uk/news/gmb-hospital-workers-protest-with-bbq-at-north-middlesex-hospital.html
2] Union protest at Enfield Hospital over redundancies and wage cuts on Friday 29 September (27 September 2017)
https://www.gmblondon.org.uk/news/protest-at-enfield-hospital-over-redundancies-and-wage-cuts
3] GMB Union protest outside North Middlesex hospital over hospital redundancies on Thursday 21st September (19 September 2017)
https://www.gmblondon.org.uk/news/gmb-union-protest-outside-north-middlesex-hospital-over-hospital-redundancies-on-thursday-21-september