Road sign relic returned to Tower Hamlets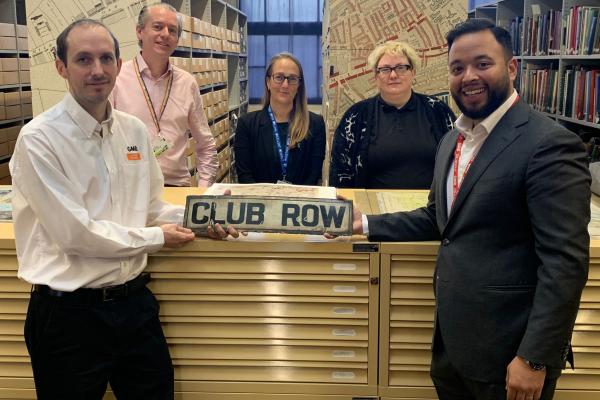 After being lost for over 80 years, the original road sign for Club Row in Bethnal Green in London was handed over to the borough's Local History Library and Archives
On 10-11 May 1941, Club Row and Bethnal Green Road were heavily bombed with extensive damage to buildings. This included damage to businesses such as Stein's Clothiers on the corner of Club Row and Bethnal Green Road. It was at this time that the sign for 'Club Row' was hit and then found by a young local boy shrapnel hunting.
John Monk, now living in Southend, innocently obtained the road sign but after rediscovering it in his home, decided that it should be returned to the London Borough where he grew up. John contacted GMB Union, his trade union since 1952 and asked for their help to return the sign to its rightful home.
On Friday 3rd November 2023 at the Tower Hamlets Local History Library and Archives, Cllr Shubo Hussain and Tower Hamlets Archives Manager Richard Wiltshire were handed back the Club Row road sign by GMB Officer John Colquhoun representing GMB Union.
John Colquhoun, GMB London Region Senior Officer said:
"Handing over this Blitz relic and representing our longest-serving member, John Monk, is a proud moment for both myself and GMB.
"Returning the road sign so that it can be preserved for the community of Tower Hamlets and afar for the long-term future is a testament to John's character and qualities."
Shubo Hussain, Tower Hamlets Councillor said:
"It was a pleasure to receive this road sign as a gift to add to Tower Hamlets Local History Library and Archives' collections.
"I thank John Monk for his kind donation of the sign and GMB Union for liaising on John's behalf."
Please contact: John Colquhoun on 079 8075 3114
Editors notes
Club Row is off Bethnal Green Road and famous for its song-bird market. It is thought that the animal market had its origins with Huguenot protestant settlers who according to one of the Local History Library captions 'were fond of cultivating flower gardens and the breeding and training of singing birds'. The street was assessed for rates from at least 1694 and named on the 1703 map of the Hamlet of Spitalfields.
Tower Hamlets has recently launched new caring for your collections guidance on its website. It provides advice about depositing documents, minutes, plans, photographs, recordings and other material from individuals, businesses and other organisations with connections to Tower Hamlets both physical and digital items.
More about Tower Hamlets Local History Library and Archives
Tower Hamlets Local History Library and Archives holds outstanding and unique resources for the study of the history of London's world-famous East End.
We cover Tower Hamlets - a borough formed with the former Metropolitan Boroughs of Bethnal Green, Poplar and Stepney.
Through a range of original documents, images and reference books the collections document the changing local landscape and lived experiences of individuals and communities in Tower Hamlets.
https://www.ideastore.co.uk/local-history/about-us