Save free and discounted travel for Heathrow Airport staff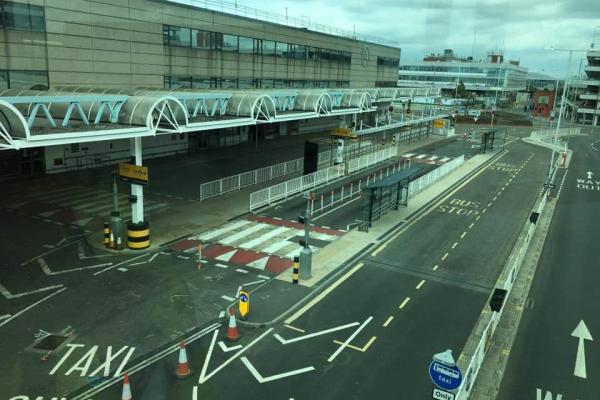 From January 1, 2021 staff will incur an additional cost of £3 per day just to get to work and this comes on top of cuts in hours, pay and job losses for already hard pressed airport staff says GMB London
GMB London, the union for airport staff, is calling on Heathrow Airport to reverse the decision to end free travel in the Heathrow free travel zone and slash discounts on travel to work for airport staff from 1st January 2021.
The Heathrow Free Travel Zone (HFTZ) is a zone encircling Heathrow Airport and the surrounding area where travel on public transport is free to use. The HFTZ is normally subsidised by the airport, meaning that the buses are free to use, with no need for any ticket, oyster card or contactless card.
Heathrow said they have taken the difficult decision to temporarily suspend the Heathrow Free Travel Zone and end some other local transport subsidies, effective from 1st January 2021 due to difficult cost pressures.
Perry Phillips GMB Regional Organiser, with the support of the GMB Aviation branch, said " From January 1, 2021 staff will incur an additional cost of £3 per day just to get to work and this comes on top of cuts in hours, pay and job losses for already hard pressed airport staff.
Staff will be charged there and back at £1.50 each way. On top of that, (TFL) Transport For London are intending on increasing the cost in the beginning of 2021 by 2.1%. Discounts on the Heathrow travel card scheme, and rail discounts, will also be slashed causing further financial pain for staff traveling to work at Heathrow.
This will have magnified the devastating impact for some staff, this will simply mean some staff are priced out of the airport. Every penny counts in these difficult times. This cut would add up for most staff by around £540 extra per year for some who are struggling to put food in the table and pay basic household bills this will push families into food poverty.
Airport staff are already suffering the effects of covid 19 with mass redundancies and reduced hours. In addition we have already seen the suspension of the London Living Wage for workers in ISS terminal cleaning and Mitie who were promised the LLW rise in April 2020. Now this suspension on the free travel zone will heap more misery on low paid workers who just want to go to work without any further hardship.
GMB consider that this decision is unwarranted and unfair on workers and urge Heathrow Airport LTD to rethink and rescind this unwelcome attack on loyal Heathrow workers."
Contact Ken Breach - 07730092777: Perry Phillips – 07912293481: Trevlyn McLeod - 07968137967 or press office 07921 289880