Strike averted at North Norfolk as GMB members accept company offer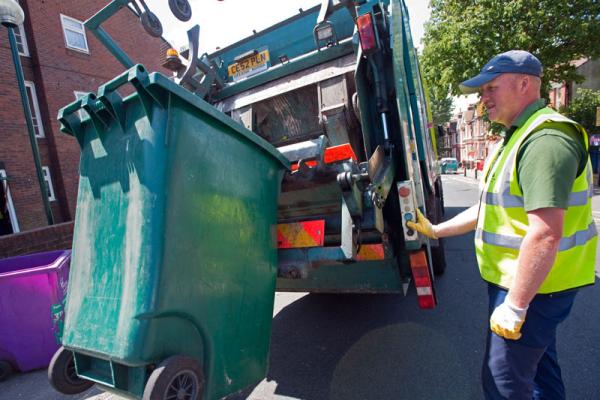 A strike by GMB members employed by Kier Environmental services on the North Norfolk refuse and recycling contract on Monday 24th October has been averted
This has been a long negotiation that began in July 2015 and resolved just two days before action was due to begin says GMB
A strike by GMB members employed by Kier Environmental services on the North Norfolk refuse and recycling contract on Monday 24th October has been averted. Strike action was due to take place in support of their pay claim to earn the same as their colleagues in Kings Lynn but members have agreed a two year deal that will achieve this. (see notes to editors for previous press releases on the issue)
Ivan Mercer, GMB regional organiser said, "I am delighted that Kier were finally able to bring an offer to the table that we could recommend and our members were willing to accept.
This has been a long negotiation that began in July 2015 and resolved just two days before action was due to begin. I am very proud of the resolve and solidarity shown by our members during this dispute.
There are still a few industrial relations issues to iron out but I am optimistic that these problems can be resolved. Now that our members have demonstrated to Kier that they are willing to support themselves and each other, it would be foolhardy of the company to dismiss their concerns of bullying taking place at the depot."
Contact: Ivan Mercer on 07713 077194; Richard O'Leary on 07710 631347 or Tony Warr on 07710 631336
Notes to editors
1 Kier deliver environmental services for 22 local authorities:
North Norfolk: refuse and recycling collection to over 54,000 households since 2011 and providing street cleansing, grounds maintenance and public convenience cleansing on an 8 year contract.
Cheshire West & Chester: weekly recycling and fortnightly waste collections
North Yorkshire: manage 18 household waste and recycling centres
Corby: refuse and recycling collection
East Northamptonshire: refuse and recycling collection
Bridgend: refuse and recycling collection and management of 3 waste and recycling centres
Bath and North East Somerset: recycling collection
Gloucestershire: manage five household waste recycling centres
North Somerset: refuse and recycling collection
Somerset Waste Partnership: refuse and recycling in Somerset for Sedgemoor, South Somerset, Mendip, West Somerset and Taunton Deane councils
West Oxfordshire: refuse and recycling collection
Bromley: Street cleaning contract
East Sussex Waste Partnership: refuse and recycling in Eastbourne, Hastings, Rother and Wealden
Waltham Forest: refuse and recycling collection
Kings Lynn: refuse and recycling collection
2 GMB press release dated 10 October 2016
GMB REFUTE INACCURATE STATEMENTS BY KIER ENVIRONMENTAL SERVICES STATEMENTS OVER PAY CLAIMS IN NORTH NORFOLK
The comments from Julian Tranter are quite simply inaccurate says GMB
GMB rebutted the claims made by Kier Environmental Services management over the strike by GMB members over pay in North Norfolk. (See notes to editors for previous GMB press release and newspaper report of Kier statement)
Last month GMB members voted overwhelmingly for strike action and gave notice that this is likely to commence on 31 October 2016.
Julian Tranter, managing director of Kier Environmental Services has said that North Norfolk refuse collection team pay increases are set by the National Joint Council (NJC) agreement and that GMB agreed the 2016/17 NJC increase of 2.4% over 2 years.
He also said that Kier already pay the collection team at least the Living Wage, with over 80% of the team paid above the Living Wage.
Richard O'Leary, GMB regional organiser, said, "The comments from Julian Tranter are quite simply inaccurate.
The National Joint Council (NJC) negotiate a national cost of living pay award for all NJC Local Authorities. Pay scales for specific roles are negotiated locally under Part 3 of the Green Book.

The Trade Unions and Regional Employers monitor pay rates across the region on a regular basis.

Many Local Authorities and Contractors now pay the real Living Wage of £8.25 per hour. In reality Kier Environmental Services have offered nothing to most of our members, their only offer being what they would have to do to comply with the Government's Living Wage.

GMB members also do not receive other benefits which transferred under the TUPE Regulations, such as holiday entitlement in line with Local Authorities.

If you calculate the actual hourly rate against the hours worked by staff, a requirement of the Working Time Directive, there is the possibility staff actually receive below the National Minimum Wage.

If Kier Environmental Services wish to use Local Authorities as a benchmark to set pay and terms and conditions, we are very happy to explore that as all Local Authority Employer's doing identical jobs receive significantly higher rates of pay and better terms and conditions."
End
3 GMB press release dated 4 October 2016
GMB MEMBERS AT KIER ENVIRONMENTAL SERVICES IN NORTH NORFOLK VOTE OVERWHELMING FOR STRIKE ACTION IN DISPUTE OVER PAY CLAIM
The high turnout and acceptance of industrial strike action is a clear indicator to the company of GMB members resolve to achieve a decent rate of pay says GMB
GMB members employed by Kier Environmental Services who provide the refuse and recycling collection services to North Norfolk District Council have voted to take strike action in defence of their pay claim and deteriorating industrial relations which has resulted in workers feeling bullied and harassed. Ninety three percent of those balloted voted in favour of continuous strike action.
GMB will be attending ACAS conciliation with the company on 6th October which will include the industrial relations element and hopefully an acceptable offer can be achieved. However, if no acceptable offer is forthcoming, strike action is likely to commence on the 31st of October.
Ivan Mercer, GMB regional organiser, said, "These negotiations have been protracted by the company refusal to offer a reasonable pay increase. Two offers that barely put members above the minimum wage have already been rejected and members are sick of feeling undervalued by the company.
North Norfolk District Council have reserves available to finance a reasonable rate of pay but Kier appear unwilling to speak with them about renegotiating the terms of the contract. The high turnout and acceptance of industrial strike action is a clear indicator to the company of GMB members resolve to achieve a decent rate of pay."
End