GMB and Labour disappointed by lack of support from Welwyn Hatfield Council over taxi rank dispute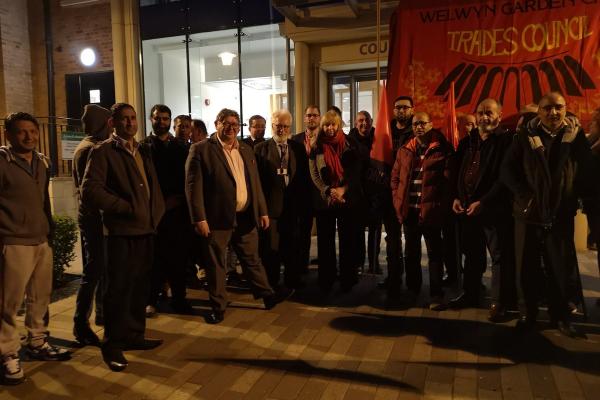 GMB and Labour Party disappointed by lack of support from Welwyn Hatfield Council for campaign to halt Hertfordshire County Council plans to move Howard Centre Taxi rank in Welwyn Garden City
This response shows how the local Conservative council choose to lead and the outcomes speak for themselves, says GMB London
GMB, the union for taxi and private hire drivers, and the Labour Party have expressed their disappointment at Welwyn Hatfield's Conservative led council over their failure to support their campaign to halt Hertfordshire County Council's plans to move the taxi rank outside the Howard Centre in Welwyn Garden City.
Hertfordshire County Council have ignored the concerns GMB Union taxi drivers and are ploughing ahead with their plans to move the taxi rank, which would make it less accessible for those who have a disability by forcing them to cross a busy road. [See notes to editors for previous GMB press release]
Last night, Labour's parliamentary candidate for Welwyn Hatfield, Rosie Newbigging, questioned this and other issues at a Welwyn Hatfield Council meeting, but her calls for support were met with a lacklustre response.
GMB Regional Organiser, Steve Garelick, asked a further question on behalf of his union's members, calling for a regular interaction with licensing and councillors. This was rejected based on the judicial review that cost the council money when last challenged by drivers.
Rosie Newbigging, Labour's parliamentary candidate for Welwyn Hatfield said:
"The Tories on Welwyn Hatfield Borough Council failed to give local taxi drivers support at the Council meeting.
"This was despite being presented with clear evidence about the impact the removal of the taxi rank will have. The next step for the campaign will be to lobby Hertfordshire County Council and present the petition to save the taxi rank.
"This is a campaign for local jobs and local people."
Steve Garelick, GMB Regional Organiser said:
"Last night's response from the council shows the licencing department wish to impose rules on the drivers which have less to do with public protection but more about attacking those who have questioned them in the past.
"The Council have in effect confirmed they will ignore interaction with those who pay licensing fees beyond basic licensing issues.
"This shows a lack of accessibility and puts internal views ahead of local workers and residents.
"This response shows how the local Conservative council choose to lead and the outcomes speak for themselves."
ENDS
Contact: Steve Garelick 07967 763980 or GMB London Press Office 07970 114762
Notes to Editors
GMB Press Release
GMB and Labour Party slam decision to move Welwyn Garden City taxi rank (17 December 2018)
https://www.gmblondon.org.uk/news/gmb-and-labour-party-slam-decision-to-move-welwyn-garden-city-taxi-rank