Zero tolerance needed on fly-tipping in London as GMB study shows more than 384,800 incidents in 2020-21 and no effective action in the vast majority of cases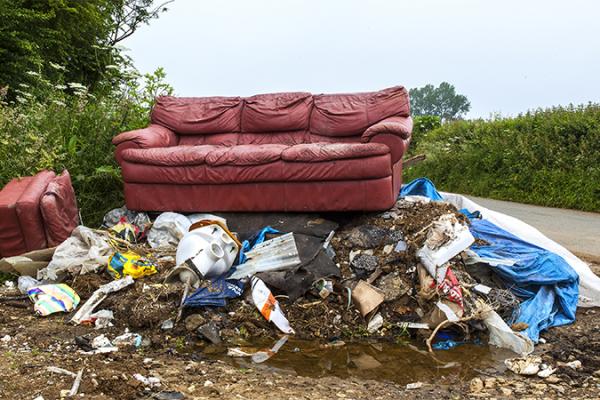 London boroughs need to up their game as GMB Union research shows only 15.5% of fly-tipping incidents resulted in any serious enforcement action being taken
In the year to end of March 2021, 33 boroughs in London had to clear 384,834 incidents of fly-tipping. During the same period these boroughs took 59,570 enforcement actions after the initial investigation to deal with fly-tippers. There was a huge variation both in the number of incidents of fly tipping and the level of activity by borough councils in trying to find the perpetrators and punish them.
London boroughs now have extensive powers to take action against fly-tipping. There can be more than one action per incident and an action takes the form of one or more of the following: Warning letter, statutory notice, fixed penalty notice, duty of care inspection, stop and search, vehicle seized, formal caution, prosecution or an injunction [see notes to editors for definitions].
Bexley reported no actions taken in 2020-21 against fly-tipping after the initial investigation. Barnet was the next lowest percentage of actions after the initial investigation with 0.3% (12 actions) followed by Camden with 0.5% (195 actions), Bromley with 0.6% (22 actions) and Kensington and Chelsea with 0.8% (64 actions).
Waltham Forest was the most active borough in London with 9,615 enforcement actions being taken after the initial investigation, 111.7% of all incidents. The borough to take the next highest actions after initial investigation as a proportion of all fly-tipping incidents was Enfield, with 87.1% (6,350 actions) followed by Havering (84.8%, 2,748 actions), Wandsworth (76.6%, 3,005 actions) and Merton (49.9%, 7,911 actions).
The London borough with the highest number of fly-tipping incidents in 2020-21 was Camden with 36,696, 9.6% of the London total. Next highest is Brent with 33,467 fly-tipping incidents followed by Hounslow with 30,902, Redbridge with 26,053 and Croydon with 22,719.
The borough with the lowest number of fly-tipping incidents in 2020-21 was Islington with 1,982. Next lowest is City of London with 2,112 fly-tipping incidents followed by Kingston upon Thames with 2,205, Richmond upon Thames with 2,981and Havering with 3,242.
In 2020/21, 39,000 or 4% of total incidents were of 'tipper lorry load' size or larger, costing local authorities in England £11.6m to clear. In London, clearance costs for these large loads was £2,506,993.
Clearance costs for other sized categories of tipped waste are no longer produced. As an indicator, in 2016-17, the last time these figures were produced, the cost to the London boroughs to deal with just under 350,000 fly-tipping incidents was £17.5m.
Set out in the table below are the figures for the 33 London boroughs, ranked actions after initial investigation as a % of all incidents. The sources and definitions for the data are set in notes to editors below.
Fly-tipping incidents reported and action taken by local authorities in England 2020-21

Total Incidents

Actions after initial investigation

Actions after initial investigation as a % of all incidents

England

1,134,211

139,879

12.3

London

384,834

59,570

15.5

rank

1

Bexley

5,684

0

0.0

2

Barnet

4,218

12

0.3

3

Camden

36,696

195

0.5

4

Bromley

3,575

22

0.6

5

Kensington and Chelsea

8,043

64

0.8

6

Southwark

21,386

190

0.9

7

Newham

20,765

408

2.0

8

Harrow

7,622

163

2.1

9

Hackney

13,609

336

2.5

10

Sutton

4,487

113

2.5

11

Barking and Dagenham

3,494

88

2.5

12

Hounslow

30,902

827

2.7

13

Islington

1,982

61

3.1

14

Tower Hamlets

7,537

292

3.9

15

Croydon

22,719

1,024

4.5

16

Westminster

11,478

600

5.2

17

Richmond upon Thames

2,981

156

5.2

18

Brent

33,467

2,266

6.8

19

Haringey

21,950

1,701

7.7

20

Kingston upon Thames

2,205

263

11.9

21

Greenwich

4,376

548

12.5

22

Lewisham

4,294

623

14.5

23

Hillingdon

9,323

1,560

16.7

24

Lambeth

5,040

887

17.6

25

Redbridge

26,053

5,929

22.8

26

Hammersmith and Fulham

16,828

4,779

28.4

27

Ealing

13,090

5,855

44.7

28

City of London

2,112

979

46.4

29

Merton

15,857

7,911

49.9

30

Wandsworth

3,924

3,005

76.6

31

Havering

3,242

2,748

84.8

32

Enfield

7,289

6,350

87.1

33

Waltham Forest

8,606

9,615

111.7
Warren Kenny, GMB London Regional Secretary, said:
"Government and London boroughs have to be more proactive in dealing with fly-tipping incidents. The data for 2020-21 shows far too much variation in the numbers of actions boroughs take in response to fly-tipping incidents. Many boroughs take far too little serious action after fly-tipping has been investigated. Boroughs need to up their game on dealing with this deeply anti-social behaviour.
"These latest figures show that some boroughs are not as proactive as they should be in dealing with fly-tipping. GMB is calling on all London boroughs to be more active to investigate and punish the anti-social behaviour of fly-tippers.
"There needs to be better education on the costs of dealing with the problem and how people can dispose of rubbish and unwanted items properly.
"London boroughs must invest in easy to access recycling and disposal facilities for residents to use and offer accessible collection schemes for bulk items.
"Boroughs have to firmly clamp down on fly-tipping by larger fines, investment in surveillance equipment and rigorous investigation of incidents and follow up action. Some boroughs have a poor record on this which encourages an attitude of impunity. A uniform policy, across London of punishing cowboy builders identified fly-tipping to confiscate their vehicles would send the right message.
"We need a policy of zero tolerance with action against fly-tipping on all fronts at all times."
End
Contact: Keith Williams, GMB London Region Senior Officer 077 1063 1339
Gavin Davies, GMB London Region Senior Officer 079 3098 3376
Notes to editors:
1) Source: Department for Environment, Food & Rural Affairs Waste and Recycling statistics. Fly tipping incidents and actions taken reported by local authorities in England, 2020-21.
www.gov.uk/government/statistical-data-sets/env24-fly-tipping-incidents-and-actions-taken-in-england
2) Fly-tipping is the illegal deposit of waste on land. These fly-tipping incidents are those reported to local authorities and do not include the majority of incidents on private land.
3) Enforcement actions taken by councils
It should be noted that multiple actions can sometimes be carried-out in one particular incident.
Investigation
The enforcement team has recorded the incident, identified the evidence available and has either decided the action to be taken or is considering this. If a decision has been made the incident could also have generated other actions in the list.
Warning letter
A warning letter has been sent or handed to the perpetrators or the land occupiers/owners.
Statutory notice
A statutory notice related to fly-tipping has been served on the perpetrators or land occupiers/owners. This would include s59 and s71 of the Environmental Protection Act. It may also include community protection notices where the intention is also to control fly-tipping.
Fixed penalty notice
Local authorities have the power to issue fixed penalty notices of up to £400 for small scale fly-tipping as an alternative to more costly prosecutions in England.
A fixed penalty notice has been served on the perpetrators in connection with a waste offence regardless of whether it has been paid. This refers to use of s88 of the EPA (but only when used against small scale fly-tipping), s34A of the EPA (failure to furnish documentation), s47ZA of the EPA (offences relating to waste receptacles) and s5B and s5C of COP(A)A 1989 (failure to produce authority).
Duty of care inspection
A business has been asked to provide waste transfer notes or a household is investigated for possible breaches of their duty.
Stop and search
A stop operation has been held in conjunction with the Police and waste carriers asked to produce evidence that they are registered waste carriers. It may also include other agencies/other checks.
Vehicles seized
Where a vehicle has been seized as it is believed to have been involved in fly-tipping.
Formal caution
A formal caution has been issued. If a number of offences relate to one incident, count each formal caution for each offence.
Prosecution
Each prosecution case taken to court regardless of the outcome. If several prosecutions are taken against a perpetrator/suspect even if this relates to just one incident, you should include all the prosecutions. E.g. if prosecuting two suspects each under section 33 and 34 of the EPA count this as four prosecutions. You will need to estimate and total your own costs of preparing the case(s) and taking them to court but exclude costs that have been recorded elsewhere (e.g. costs of surveillance).
Injunction
A magistrate's court has issued an injunction to an individual or business who has failed to take the action required by a statutory notice.