British Gas Strike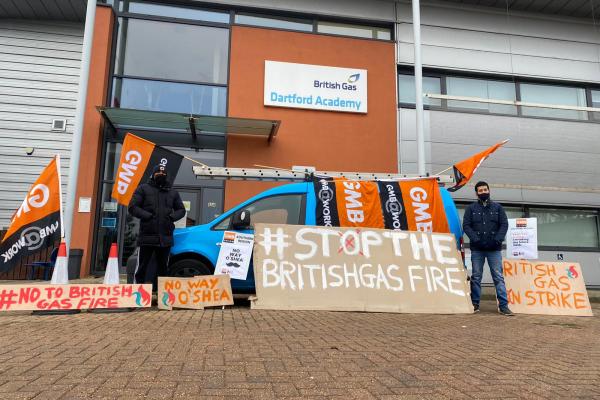 Our members at British Gas have started five days of national strike action as a result of the company's threat of fire and rehire on lesser terms and conditions. Over the years we have negotiated with British Gas on a whole swathe of changes, be it staff numbers, pensions or terms and conditions, and our members have always accepted, sometimes very reluctantly, those changes. This time though the management has gone too far.
The strike action, starting on Thursday 7th January is the first in living memory. The fire and hire threat has been condemned by all political parties and pressure has been applied in the hope that the company will draw back from their contemptible plan. The company have made spurious and despicable claims that our members will not cover emergency call outs for the elderly and vulnerable, all of which have been strongly rebutted and proven false.
British Gas Engineers and other workers will also down tools on January 22nd, 25th, 29th, 30th, 31st and February 1st in anger as profitable British Gas provokes further disruption for its customers.
Workers cannot be held to ransom with threats of Fire and Rehire, especially when this corporation announced operating profits of £901million.
We ask you to show your support and stand in solidarity with our members in British Gas, sign the petition on the national website where you can also show your support. https://gmb.org.uk/campaign/back-british-gas-workers
For those of you with Twitter accounts, would you please send messages of support to our members using the hashtag #StopTheBritishGasFire
Taking strike action will leave a massive dent in the pay of the British Gas workers taking strike action, Please support your fellow members with whatever you can afford GMB British Gas 'Fire and Rehire' Strike Fund - a Community crowdfunding project in United Kingdom by GMB Union (crowdfunder.co.uk)
Strike placards can be download here and here
Power is in the strength of many, not one!