Schools & Academies in England, Member Update – 11th June 2021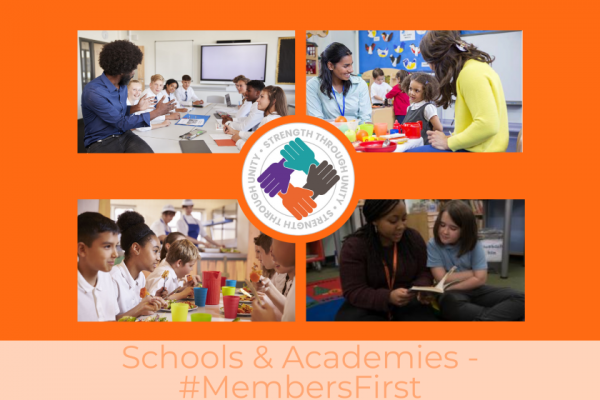 Dear Member
We hope this finds you well.
As schools have returned from half term, it has become apparent that the Delta variant is an increasing problem.
GMB is deeply concerned that secondary school age students now have the highest rates of Covid-19 infection of all age groups, according to both Public Health England (PHE) and the Office for National Statistics (ONS) and those rates are rising. The Health Secretary admitted last weekend "a huge proportion of the latest cases are in children" and that they pass on the virus to the local community and face risks from long Covid. This is a matter of real concern given DfE changed the advice on the need for Pupils in Year 7 and above to wear a face covering in all areas of schools and that PHE has advised that the Delta variant is more transmissible, can lead to more serious infections and vaccine​s may be less effective against it.
GMB has this week issued a joint statement with other Unions calling for action to be taken now to make face-to-face learning safer over the remainder of ​the school term​. The full statement can be found here https://www.gmb.org.uk/news/bring-back-face-coverings-schools-limit-coronavirus-disruption. In addition to calling for the reintroduction, with immediate effect, the requirement for students and staff to wear face coverings in all areas of secondary schools including classrooms the Joint Unions are calling on Government to
Make resources available to schools with poor ventilation ​to purchase carbon dioxide monitors and air filters.
Encourage outdoor lessons wherever possible.
Undertake an urgent review of the guidance on bubbles and the isolation of contacts, given the increased transmissibility of the Delta variant.
Release the data on the number of cases of the Delta variant in education setting​s, not just figures concerning outbreaks. The longer this data is withheld, the more it ​looks as though ministers have something ​to hide.

Last week we wrote to you about the importance of risk assessments being updated and reviewed and all previous guidance and advice from GMB London can be found at www.gmblondon.org.uk/workplace. First and foremost, it is important you feel safe at work and are confident all reasonable, practicable measures are being taken to protect you. If you have any questions or concerns, please do not hesitate to contact your local Branch or email us at schoolsteamlondon@gmb.org.uk.
If you have any colleagues who are not in a union, they can join GMB online at www.gmb.org.uk/join. Together we are stronger and together we can make a difference.
Stay safe,
Kind regards,

Lisa Bangs, GMB London Region Organiser

Keith Williams, GMB London Region Senior Organiser