Success in fight for Welwyn Garden City taxi rank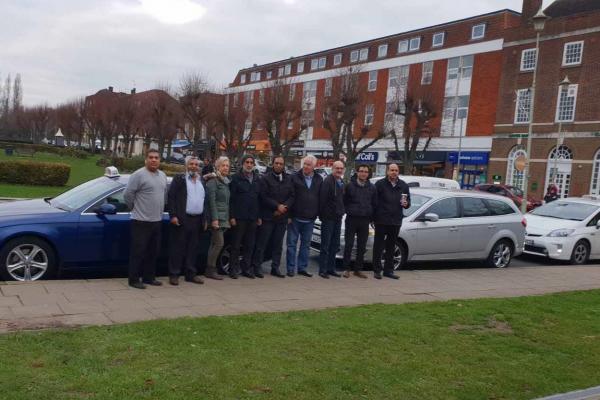 GMB successful in fight to keep taxi rank outside The Howard Centre in Welwyn Garden City
This is a victory for common sense and for the community, says GMB London
GMB's campaign to save the taxi rank outside the Howard Centre in Welwyn Garden City has proven successful subject to formal confirmation from Herts County Council that they will not revise their decision.
GMB had previously slammed the decision to move the popular rank to a nearby junction which would force passengers to cross a busy road and making it less accessible for disabled passengers. [See notes to editors for previous GMB press release]
GMB have also requested that the short term parking suggested by the Council is used as a taxi rank between 6:00 PM and 8:00 AM and will be asking Welwyn and Hatfield Council's vision team to include electric vehicle plug in points to help the local environment and encourage green vehicle take up as a result of the climate emergency.
Local taxi companies and GMB continue to support the full pedestrianisation of the Stonehills area to reduce traffic and create a better pedestrian experience.
Steve Garelick, GMB Regional Organiser said:
"This is a victory for common sense and for the community.
"Local taxi has so much to face including a local council licensing team who will not meet directly in forums and who consistently avoid engagement due to losing a previous case.
"Taxi is a valuable part of the community often forgotten especially with the councils licensing team allowing out of town licensed operators a free hand.
"The county council's change of heart is welcomed, we hope Welwyn and Hatfield Council can turn over a new leaf too.
"We would like to thank Welwyn Hatfield Labour Party and their parliamentary candidate, Rosie Newbigging, for all their help in this fight."
ENDS
Contact: Steve Garelick 07967 763980 or GMB London Press Office 07970 114762
Notes to Editors
Previous GMB Press Releases
1] GMB and Labour Party slam decision to move Welwyn Garden City taxi rank (17 December 2018)
https://www.gmblondon.org.uk/news/gmb-and-labour-party-slam-decision-to-move-welwyn-garden-city-taxi-rank
2] GMB and Labour disappointed by lack of support from Welwyn Hatfield Council over taxi rank dispute (26 March 2019)
https://www.gmblondon.org.uk/news/welwyn-hatfield-council-over-taxi-rank-dispute