Anglian Windows scrap pay cut proposals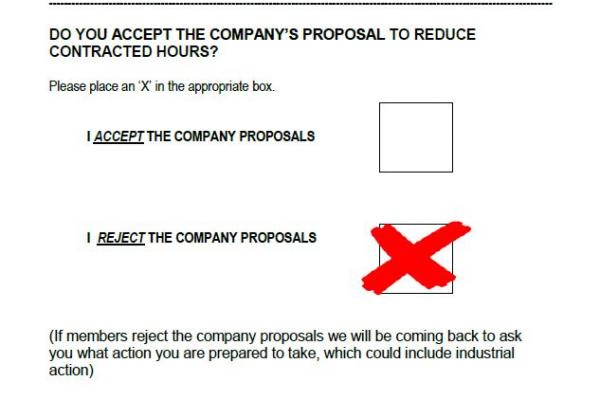 Rejected proposal to cut GMB member's working hours and pay within Anglian Windows scrapped at the 11th hour Anglian Windows have finally taken note of their GMB workforce and have scrapped their proposal to cut working hours and pay, says GMB London
GMB Union, the trade union for Anglian Windows workers, have welcomed the decision by the company to scrap proposals to cut members working hours and pay at the 11th hour after the plans were rejected by GMB members in a ballot.
The ballot asked GMB members to accept or reject these proposals to decrease wages by 8.3% and to utilise agency staff at the Norwich site. The recommendation given by GMB was to reject the offer.
Following extensive members' feedback being relayed to the company and communication to pre warn that GMB and its members would be willing to fight to secure pay and working hours the company waited until Wednesday 3rd July before confirming that the consultation had now stopped.
Due to the 11th hour announcement by Anglian Windows GMB members decided to continue the ballot and attend a mass meeting at the Gas Club in Norwich on Friday 5th July where the indicative ballot papers were counted.
Over 200 members attended the meeting and gave an overwhelming response of 97% to reject the offer made by the company.
Keith Dixon, GMB Regional Organiser said:
"I am pleased on behalf of our GMB members that the company finally realised that they were close to an industrial dispute regarding the proposal. "Possible strike action is something we all want to avoid, and I feel we were heading at speed to this due to the company's refusal to negotiate and failure to consider the concerns of the workforce."I previously met with the company and offered the opportunity to open negotiations, subject to member's approval, and to look to see if there is an amicable solution which could be secured. At that time the request was rejected. The offer remains open and I will write to the company to reaffirm this in the forthcoming days.
"I am proud that our members united to oppose the proposal and to fight any further attempt to reduce their pay and working hours.
"The ballot was concluded despite Anglian Windows last minute decision to cease consultation so that we have our members agreement to fight this proposal if it were to be offered in the future.
"GMB is behind every one of our members in making sure their voices are heard and that their pay, terms and conditions are unaffected."
ENDS
Contact: Keith Dixon 07703 469403 or GMB London Press Office 07970 114762
Notes to Editors
Previous GMB Press Releases
1] "GMB ballot at Anglian Windows due 5th July" (1 July 2019)
https://www.gmblondon.org.uk/news/gmb-ballot-at-anglian-windows-due-5-july
2] "GMB oppose Anglian Windows plans to cut staff hours and pay" (31 May 2019)
https://www.gmblondon.org.uk/news/gmb-oppose-anglian-windows-plans-to-cut-staff-hours-and-pay