GMB hold rally in support of Britvic workers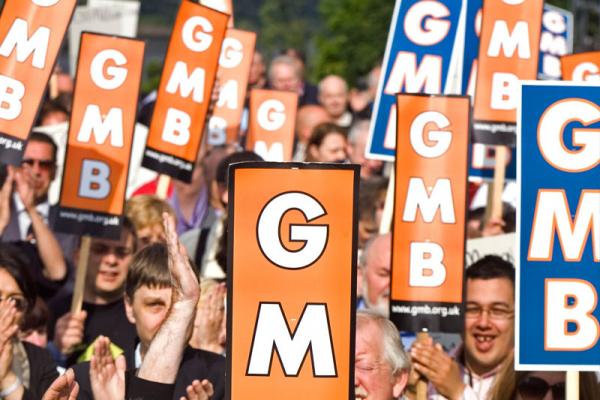 ​​​​​​​GMB hold Norwich rally on 10 September in support of Britvic workers fighting for improved redundancy package
It is important that as many people attend as possible so we can we send a clear message to Britvic, says GMB London
GMB are holding a rally in Norwich on Monday 10 September in support of workers at the Britvic warehouse who have been fighting to improve the redundancy package offered to them by the company. [See notes to editors for previous GMB press releases]
Staff at the site have recently carried out twenty-four hour strikes for three days per week over the last six weeks.
Britvic announced last year it would be closing the factory towards the end of 2019, putting 242 jobs at risk.
Details of the rally are as follows:
Monday 10 September
Starting at 1:00 PM
Chapelfield Gardens
Coburg St
Norwich
NR1 3BF
Finishing at 3:00 PM
The Forum
Bethel St
Millennium Plain
Norwich
NR2 1BH
Shaun Graham, GMB Regional Officer said:
"Robinsons has operated in Norwich for 95 years, making Robinsons Squash, Barley Water and Fruit Shoot amongst other products and alongside the famous product Colman's Mustard.
"The strike is twofold. Firstly, to keep the brand and jobs in Norfolk. Secondly, other parts of the business such as Colman's are paying a better redundancy exit package. Our members at Britvic want the same package from the company.
"Over 240 jobs are at stake, which is a big blow to employment within Norwich.

"It is really important that as many people attend this rally as possible so we can we send a clear message to Britvic.
"We will walk down Theatre Street, onto Brigg Street, Gentleman's Walk, up Gaol Hill, in front of City Hall and finish at the forum where we will have a photo shoot.
"This rally coincides with 'Battle of Britain' day so we know there will be crowds and press. We have timed our rally to start after the 'Battle of Britain' event has ended out of respect. I'm sure many will want to turn up early to show support for them and enjoy the fly-past and parade.
"This is a great opportunity to maximise publicity for our cause so we need everyone there. It is a great opportunity, in front of the press and media, for people to have their say on Britvic."
ENDS
Contact: Shaun Graham 07885 706 556 or GMB London Press Office 07970 114 762
Notes to Editors
Previous GMB Press Releases:
1) GMB concerned over use of untrained labour at Britvic during strike action (3 Aug 2018)
https://www.gmblondon.org.uk/news/gmb-concerned-over-use-of-untrained-labour-at-britvic-during-strike-action
2) GMB members at Britvic to take further strike action (17 Jul 2018)
https://www.gmblondon.org.uk/news/gmb-members-at-britvic-to-take-further-strike-action
3) GMB members at Britvic to hold one-day strike (28 Jun 2018)
https://www.gmblondon.org.uk/news/gmb-members-at-britvic-to-hold-one-day-strike
4) GMB members at Britvic vote in favour of strike action (15 Jun 2018)
https://www.gmblondon.org.uk/news/gmb-members-at-britvic-vote-in-favour-of-strike-action
5) GMB members at Britvic ballot for industrial action (23 May 2018)
https://www.gmblondon.org.uk/news/gmb-members-at-britvic-to-ballot-on-industrial-action
6) GMB call on Business Secretary to intervene in Britvic closure (21 Dec 2017)
https://www.gmblondon.org.uk/news/gmb-call-on-business-secretary-to-intervene-in-britvic-closure
7) GMB disappointed by Britvic directors disregard of Norwich factory closure (5 Dec 2017)
https://www.gmblondon.org.uk/news/gmb-disappointed-by-britvic-directors-disregard-of-norwich-factory-closure
8) GMB call on Britvic directors to intervene in closure of Robinsons factory in Norwich (3 Nov 2017)
https://www.gmblondon.org.uk/news/gmb-call-on-britvic-directors-to-intervene-in-closure-of-robinsons-factory
9) Norwich MP vows to work with GMB to save Britvic jobs under threat (16 Oct 2017)
https://www.gmblondon.org.uk/news/britvic-jobs-under-threat