GMB send open letter to MPs to back third runway bid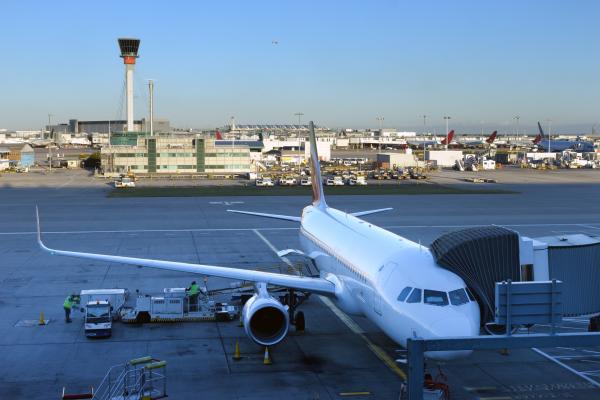 GMB join unions in open letter to MPs to back third runway at Heathrow for the jobs and growth it will create across the country
The third runway is not just a London-centric project – 60% of the benefits of expansion will be felt outside of London and the South East, says GMB London
GMB have joined the TUC, BALPA, Community and Unite the Union, in an open letter to Parliament, urging them to support plans for a third runway at Heathrow. [See notes to editors for previous GMB press releases]
The unions used the letter to demonstrate the economic benefits of the decision, stating that 180,000 new jobs will be created, not only in the aviation industry, but also in aerospace, construction and steel industries.
MPs will vote on the proposals for a third runway in the House of Commons later this year.
The open letter from GMB, TUC, BALPA, Community and Unite the Union said:
As the leaders of trade unions across the UK, representing over 5 million workers and thousands whose jobs rely on the continuing success of Heathrow, we continue to back the idea of expansion of the airport. After all, Heathrow expansion was the recommendation of the independent Airports Commission, who reviewed all of the evidence when coming to its conclusion. Whilst some of us may act as a critical friend at times, we all agree on this – a successful Heathrow will benefit workers across the UK.
A third runway at Heathrow – one of the biggest construction projects in Europe – answers the demands of many members across the UK – for more skilled, well-paid and sustainable jobs.
The benefits of a third runway at Heathrow to our members are clear and compelling: 180,000 new jobs, doubling the number of apprenticeships to 10,000 and £187 billion in economic benefits. This won't just affect aviation but will positively benefit our aerospace, construction and steel industries.
Expansion will deliver these jobs and growth to every nation and region of the UK, from Penzance to Perth; Swansea to Southend. The third runway is not just a London-centric project – 60% of the benefits of expansion will be felt outside of London and the South East.
One area where the effect will be felt strongest is in the British steel industry. An expanded Heathrow will need thousands of tonnes of UK steel and we will ensure that Heathrow is held to their commitment of using British steel, as well as ensuring that suppliers across the UK are the beneficiaries of this work. This work could have a transformative effect. Independent research concluded that orders for steel alone could sustain hundreds of jobs across the UK, including in the communities of Scunthorpe, Port Talbot and Teesside.
Heathrow has a duty to ensure that there is a positive legacy from expansion and that the UK workforce is left stronger for it. We need a skilled workforce to succeed and that's why we were encouraged to see Heathrow establish a Skills Taskforce in 2016 to look at how we meet the skills needs for the third runway but also for other infrastructure projects UK-wide.
We have as trade unions ensured that Heathrow is now a Living Wage employer, and we will continue to hold them to their agreement that all direct employees of the airport will be paid this wage. This is welcome, and we will also make sure that Heathrow's commitment to transition all colleagues in the supply chain to the Living Wage is met.
Furthermore, we will follow this up with delivery of meaningful guarantees that Heathrow provides a strong commitment to respectful industrial relations and works with unions to deliver a safe and dignified working environment for all.
As unions committed to sustainable transport, we also commend Heathrow on the work they have been doing to address environmental concerns. This includes continued progress to increase the number of passengers who take public transport to the airport and Heathrow's commitment to no more airport-related traffic on the roads; investment in Electric Vehicle charging points; and increased environmental charges to encourage airlines to use their cleanest, quietest aircraft.
For all of these reasons, and more, we urge Parliament to take a positive decision on Heathrow expansion as soon as possible. Doing so will unlock thousands of jobs and millions of pounds in economic benefits at a critical time for workers across the UK.
Signed by,
Tim Roache, General Secretary, GMB
Len McCluskey, General Secretary, Unite the Union
Paul Nowak, Deputy General Secretary, TUC
Roy Rickhuss, General Secretary, Community
Brian Strutton, General Secretary, BALPA
ENDS
Contact: Gary Pearce 07850 036 952 or Tony Warr 07710 631 336 or GMB London Press Office 07970 114 762
Notes to Editors
Previous GMB Press Releases
GMB welcome Parliament vote on 3rd Heathrow runway (23 March 2018)
https://www.gmblondon.org.uk/news/gmb-welcome-parliament-vote-on-3rd-heathrow-runway
GMB stress importance of getting on with third runway at Heathrow (17 January 2018)
https://www.gmblondon.org.uk/news/gmb-stress-importance-of-getting-on-with-third-runway-at-heathrow
GMB London call for consultation to be final round in go ahead for Heathrow 3rd runway (2 February 2017)
https://www.gmblondon.org.uk/news/gmb-london-call-for-consultation-to-be-final-round-in-go-ahead-for-heathrow-3rd-runway