GMB to hold protest at Heathrow Airport calling for real living wage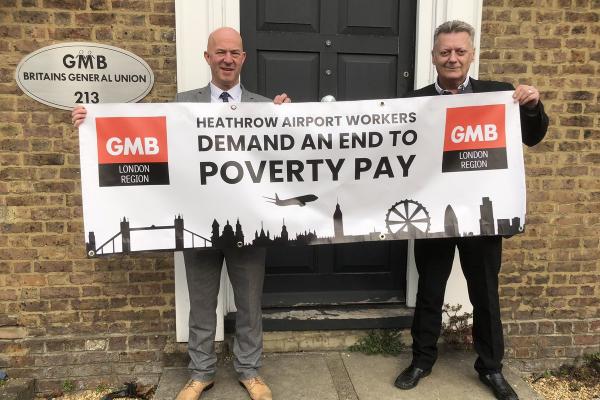 ​​​​​​​Heathrow demonstration: Hundreds set to join mass GMB protest outside airport on Saturday 27 April to call for a real living wage
GMB London Region call on Heathrow to honour its commitments and ensure thousands of workers are paid a wage they can live on says GMB Union
Hundreds are set to join a mass protest at Heathrow to call for airport bosses to pay all 90,000 workers a wage they can live on.
Details of the demonstration are as follows:
Saturday 27 April 2019
10:30 AM to 2:30 PM
Capital Place,
120 Bath Road,
Heathrow
UB3
Following GMB's long-running campaign, last year, Heathrow announced all contracted staff working at the airport would be paid the London Living Wage of £10.55 per hour by 2020. [See notes to editors for previous GMB press release]
Now GMB is urging the airport to make sure all staff – including contractors – are paid at least the London Living Wage (Currently £10:55 per hour)
2018 was the busiest year in Heathrow's history, bringing in £3 billion revenue and 80.1m passengers.
Perry Phillips, Regional Organiser for Aviation and Heathrow:
"GMB is demanding the London Living Wage for all Heathrow workers.
"We call on Heathrow to honour its commitments and ensure that not only directly employed staff, but also the thousands of workers in the airport's supply chain are paid a wage they can live on.
"Contractors at the Airport are not signing up to Heathrow's commitment where workers and their families are still suffering as a result of being paid a poverty wage.
"Heathrow is thriving, but that success is built on the back of 1000s of workers who keep the airport clean, safe and operational.
"They need to share in Heathrow's success."
ENDS
Contact: Perry Phillips 07912 293481 or GMB London Press Office 07970 114762
Notes to Editors
Previous GMB Press Release
1] GMB welcome news Heathrow to pay all contracted staff London Living Wage
https://www.gmblondon.org.uk/news/gmb-welcome-news-heathrow-to-pay-all-contracted-staff-london-living-wage
2] GMB welcome Heathrow commitment to the London Living Wage (7 Dec 2016)
https://www.gmblondon.org.uk/news/gmb-welcome-heathrow-commitment-to-the-london-living-wage
3] GMB call on Heathrow to end poverty pay and implement London Living Wage (28 Sept 2017)
https://www.gmblondon.org.uk/news/end-poverty-pay-at-heathrow-london-living-wage
4] GMB call on Heathrow Airport Holdings Ltd to stick to London Living Wage promises (26 Feb 2018)
https://www.gmblondon.org.uk/news/gmb-call-on-heathrow-airport-holdings-ltd-to-stick-to-london-living-wage-promises
5] GMB call on Heathrow to pay London Living Wage following new dividend figures (26 Jul 2018)
https://www.gmblondon.org.uk/news/gmb-call-on-heathrow-to-pay-london-living-wage-following-new-dividend-figures