Hotels, Catering & Hospitality
Hotels, Catering & Hospitality regional bulletins, newsletters and downloadable resources.
Hotels, catering and hospitality in London, and the wider London region area, has thousands of GMB members working across many employers. The GMB Hotels and Catering Branch has members from very small employers to globally branded names, and the industry draws people from all over the world, which is particularly reflected in London. The workplaces range from private clubs, hotel chains, pub and restaurant chains, to catering companies. GMB represent members from the smallest employer upwards. This is an exceptionally busy area for the GMB and there are many issues that arise within hotels and catering.
The day to day running of GMB London Region's Hotels and Catering Branch is undertaken by the Branch Secretary, Colin Gadsdon. Colin carries out the majority of work looking after members in this Branch and many of our members know Colin personally. He works tirelessly for the Branch and it is supported by GMB full-time Organiser Mark Holland who works from our Romford office.
Here are a few examples of recognisable companies where GMB has members:
Burger King, Compass Group, Dominos Pizza, Dorchester Hotel, Guoman Hotels, Hilton Hotels, Holiday Inn, Intercontinental Hotels, ISS UK, KFC, Mcdonald's, Merlin Entertainment, Park Inn, Pizza Express, Pret A Manger, Prezzo, Radisson Hotels, Sheraton Hotel, Starbucks Coffee, The Savoy Hotel, Travelodge Hotel, Whitbread plc
The majority of work undertaken by the Branch is based on representing our members within the workplace and helping them with the problems they face at work, which cover some of the following areas:
Bullying
Disciplinary
Unpaid wages
Change to working hours and restructuring
Asked to work for no pay
Not receiving tips
Ill health
Accidents at work
Campaigns
The GMB has been campaigning for the £10 per hour Living Wage. GMB has welcomed proposals from Labour's Shadow Chancellor of the Exchequer for a £10 an hour living wage who has said that Labour would "charge a new Living Wage Review Body with the task of setting it at the level needed for a decent life". The GMB believe that no member should struggle on a low income. GMB wins campaigns because of the strength of our membership. If you're not a member, then join today and be part of that.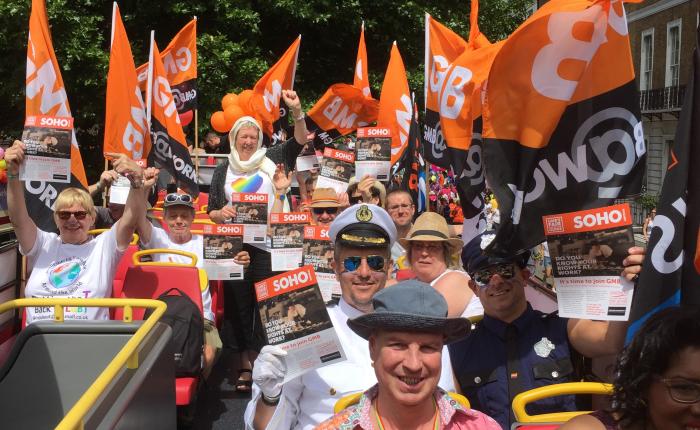 Soho Central regional bulletins, newsletters and downloadable resources.