GMB members at Historic Royal Palaces to hold walkout and demonstration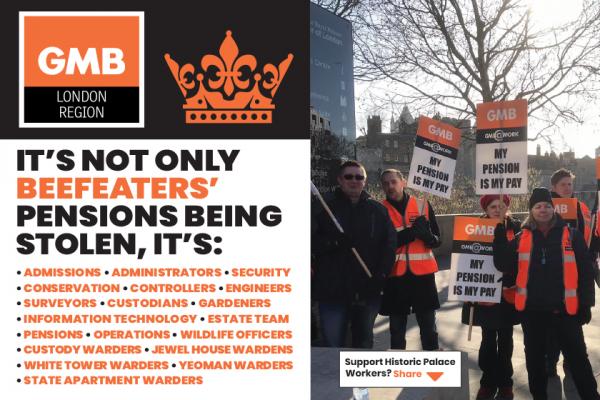 GMB stage photocall of raven 'leaving the tower' and call for government to step in as members at Historic Royal Palaces strike again on Wednesday 6 February over closure of pension scheme
We want the Secretary of State to intervene, after all he employs HRP so it is the government's responsibility, says GMB London
GMB members working for Historic Royal Palaces (HRP) are set to strike again on Wednesday 6 February over the closure of their pension scheme. GMB members will be staging a walkout and demonstration outside the Tower of London and Hampton Court Palace. [See notes to editors for previous GMB press releases]
Details of the demonstration are as follows:
Wednesday 6 February
Walkout:
11:00 AM to 3:00 PM
Demonstration:
12:00 PM
Tower of London Staff:
Lower Thames Street & Petty Wales
London
EC3R 6LA
Hampton Court Palace staff:
Trophy Gate
Hampton Court Palace
East Molesey
KT8 9AU
The demonstrations will include GMB flags and picket signs listing the numerous jobs affected by closure of HRP's pension scheme as well as an actor backdropped by the Tower of London dressed in a full Beefeater uniform with a realistic raven.
HRP intend to close the pension scheme at the end of March this year, despite the fact that last year was a record year for HRP. Last year HRP reported record revenue of nearly £100million, a profit of £3.1million and total assets of £86.4million with 4.7 million total visitors.
The palaces are all still owned by HM The Queen in right of Crown, but HRP is contracted by the Secretary of State for Digital, Culture, Media and Sport, Jeremy Wright MP to manage five London palaces on her behalf.
Michael Ainsley, GMB Regional Organiser said:
"The government must not be allowed do a Pontius Pilate, washing its hands of this serious issue and standing by idly watching employers, particularly those they directly contract and who clearly can afford decent pensions, to kick the can down the road for tax payers to pick up the bill.
"GMB is calling on the right honourable Jeremy Wright MP, the Secretary of State for Digital, Culture, Media and Sport, to intervene and stop this savage and mindless raid on workers' pensions, after all he employs HRP so it is the government's responsibility."
ENDS
Contact: Michael Ainsley 07974 250947 or GMB London Press Office 07970 114762 or london.press@gmb.org.uk
Notes to Editors
Previous GMB London Press Releases
1] GMB members at HRP announce three more days of strike action (23 January 2019)
https://www.gmblondon.org.uk/news/gmb-members-at-hrp-announce-three-more-days-of-strike-action
2] Beefeaters strike to go ahead as pension discussions end without agreement (21 January 2019)
https://www.gmblondon.org.uk/news/beefeaters-strike-to-go-ahead-as-pension-discussions-end-without-agreement
3] GMB suspend strike action as HRP pensions offer to be put to members (14 January 2019)
https://www.gmblondon.org.uk/news/gmb-suspend-strike-action-as-hrp-pensions-offer-to-be-put-to-members
4] GMB suspend strike action for further talks with Historic Royal Palaces (7 January 2019)
https://www.gmblondon.org.uk/news/gmb-suspend-strike-action-for-further-talks-with-historic-royal-palaces
5] Beefeaters at Historic Royal Palaces to strike on Tuesday 8 January (17 December 2018)
https://www.gmblondon.org.uk/news/beefeaters-at-historic-royal-palaces-to-strike-on-january-8
6] "Historic Royal Palaces staff to be balloted on strike action over closed pensions" (29 Nov 2018)
https://www.gmblondon.org.uk/news/historic-royal-palaces-staff-to-ballot-on-strike-action-over-pensions
7] "Beefeaters to be balloted on strike action" (9 Nov 2018)
https://www.gmblondon.org.uk/news/beefeaters-to-be-balloted-on-strike-action