HRP strike days suspended to consult on new pensions offer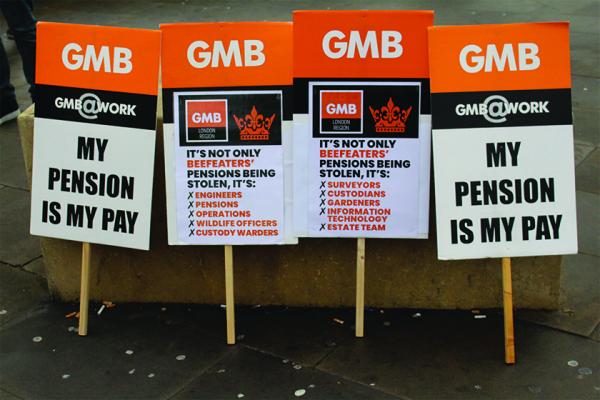 Strike days by staff working for Historic Royal Palaces suspended as GMB members to be consulted on improved pensions offer
HRP's new offer regarding our members' pensions has improved significantly enough that we will now consult with our members on whether or not they feel it is acceptable, says GMB London
Strike action by GMB members working for Historic Royal Palaces (HRP), set for Saturday 16 February and Thursday 21 February, has been suspended following an improved offer made HRP regarding members' pensions.
GMB will now consult with its members working at both Hampton Court Palace and the Tower of London, to see whether they will accept the new offer.
GMB have held two days of strike action since HRP announced last year that they were going to close employees' final salary pensions, despite promises made to them at the time of privatisation.
Michael Ainsley, GMB Regional Officer said:
"We have sat down with HRP and their new offer regarding our members' pensions has improved significantly enough that we will consult with our members on whether or not they feel it is acceptable.
"We will meet with our members, who have said from the very beginning of this dispute that they are willing to listen to offers before going ahead with any strike action. The decision is now with them."
ENDS
Contact: Mick Ainsley 07974 250 947 or GMB London Press Office 07970 114 762
ENDS
Notes to Editors
Previous GMB London Press Releases
1] GMB members at Historic Royal Palaces to hold walkout and demonstration (4 February 2019)
https://www.gmblondon.org.uk/news/gmb-members-at-historic-royal-palaces-to-hold-walkout-and-demonstration
2] GMB members at HRP announce three more days of strike action (23 January 2019)
https://www.gmblondon.org.uk/news/gmb-members-at-hrp-announce-three-more-days-of-strike-action
3] Beefeaters strike to go ahead as pension discussions end without agreement (21 January 2019)
https://www.gmblondon.org.uk/news/beefeaters-strike-to-go-ahead-as-pension-discussions-end-without-agreement
4] GMB suspend strike action as HRP pensions offer to be put to members (14 January 2019)
https://www.gmblondon.org.uk/news/gmb-suspend-strike-action-as-hrp-pensions-offer-to-be-put-to-members
5] GMB suspend strike action for further talks with Historic Royal Palaces (7 January 2019)
https://www.gmblondon.org.uk/news/gmb-suspend-strike-action-for-further-talks-with-historic-royal-palaces
6] Beefeaters at Historic Royal Palaces to strike on Tuesday 8 January (17 December 2018)
https://www.gmblondon.org.uk/news/beefeaters-at-historic-royal-palaces-to-strike-on-january-8
7] "Historic Royal Palaces staff to be balloted on strike action over closed pensions" (29 Nov 2018)
https://www.gmblondon.org.uk/news/historic-royal-palaces-staff-to-ballot-on-strike-action-over-pensions
8] "Beefeaters to be balloted on strike action" (9 Nov 2018)
https://www.gmblondon.org.uk/news/beefeaters-to-be-balloted-on-strike-action