GMB London will today show solidarity with all aviation industry workers as London's aviation campaign steps up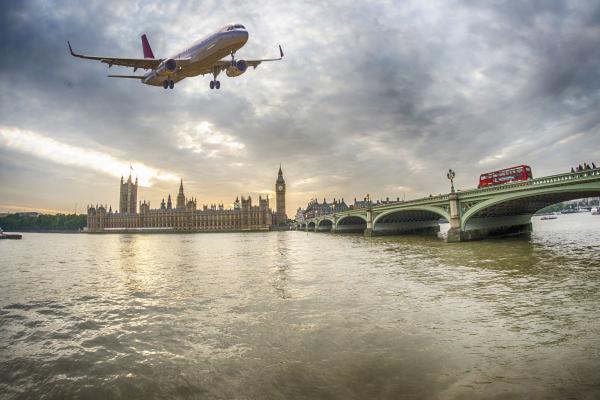 GMB London Region will today be represented by a number of members and officers from regional airports to call on the government to Step up, Step in and Save our Aviation Industry at a protest today outside Westminster and Downing Street
GMB London, the union for workers in the aviation industry has reported all too many times the large number of job losses in the industry and supply chain which, if there is no support from government will eventually decimate airports, communities and local economies.
Government needs to step up, step in and save aviation now with a package that will support the industry until airports are back to passenger and freight levels seen before the pandemic.
The latest Heathrow results, report passenger numbers down by 96% and Cargo volumes down over 30% in the second quarter.
Perry Phillips GMB Regional Organiser for Aviation at Heathrow Airport said:
"Heathrow Airport financial results and passenger numbers just show that the government must provide a support package for the aviation industry to protect and safeguard aviation workers who are being hit the hardest. The government is failing thousands of workers in the aviation industry and supply chain who are about to be made redundant and many will work on reduced hours and suffer hardship until such time the industry picks up which could be years from now.
The government must also come up with an alternative testing programme that will see passengers flying again with confidence."
GMB London is calling on the government to act now to protect and safeguard jobs in the aviation industry in the first instance with a support package that will stop further job losses and the decimation of aviation, communities and local economies.
End
Contact:
Gary Pearce, GMB London Region Organiser 078 5003 6952
Ken Breach, GMB London Region Organiser 077 3009 2777
GMB London Press Office 079 7001 9643
Editors notes:
GMB London Region press release 17th July 2020
https://www.gmblondon.org.uk/news/shocking-disgraceful-and-dickensian-treatment-of-staff-at-heathrow-airline-security-company
GMB London Region press release 10th July 2020
https://www.gmblondon.org.uk/news/more-misery-at-heathrow-airport-as-plane-catering-firm-slashes-696-jobs
GMB London Region press release 6th July 2020
https://www.gmblondon.org.uk/news/our-airports-and-the-aviation-industry-is-suffering
GMB London Region press release 17th June 2020
https://www.gmblondon.org.uk/news/another-devastating-blow-at-heathrow-airport-as-contractor-ocs-announces-to-end-its-aircraft-appearance-contracts-slashing-277-jobs.html
GMB London Region press release 11th June 2020
https://www.gmblondon.org.uk/news/gmb-london-says-our-top-priority-is-to-protect-jobs-at-heathrow.html
GMB London Region press release 3rd June 2020
https://www.gmblondon.org.uk/news/gmb-slam-stansted-airport-job-cuts-and-pledge-full-support-to-oppose-these-proposals.html
GMB London Region press release 2nd June 2020
https://www.gmblondon.org.uk/news/aviation-industry-in-crisis-and-jobs-on-the-line-as-heathrow-airport-contractors-proceed-with-redundancies.html
GMB London Region press release 2nd June 2020
https://www.gmblondon.org.uk/news/ba-has-jumped-the-gun-on-12,000-job-losses-and-should-withdraw-statement.html
GMB London Region press release 20th March 2020
https://www.gmblondon.org.uk/news/urgent-action-needed-to-stop-huge-scale-act-of-god-sackings-at-airports.html
GMB London Region press release 17th March 2020
https://www.gmblondon.org.uk/news/gmb-calls-on-government-bailout-for-aviation-industry-to-include-contracted-and-retail-staff.html
GMB London Region press release 16th March 2020
https://www.gmblondon.org.uk/news/gmb-calls-on-healthrow-airport-to-protect-jobs-and-incomes-in-coronavirus-crisis.html
GMB London Region Aviation Campaign video